PORTRAIT N°14 - NICOLE ABAR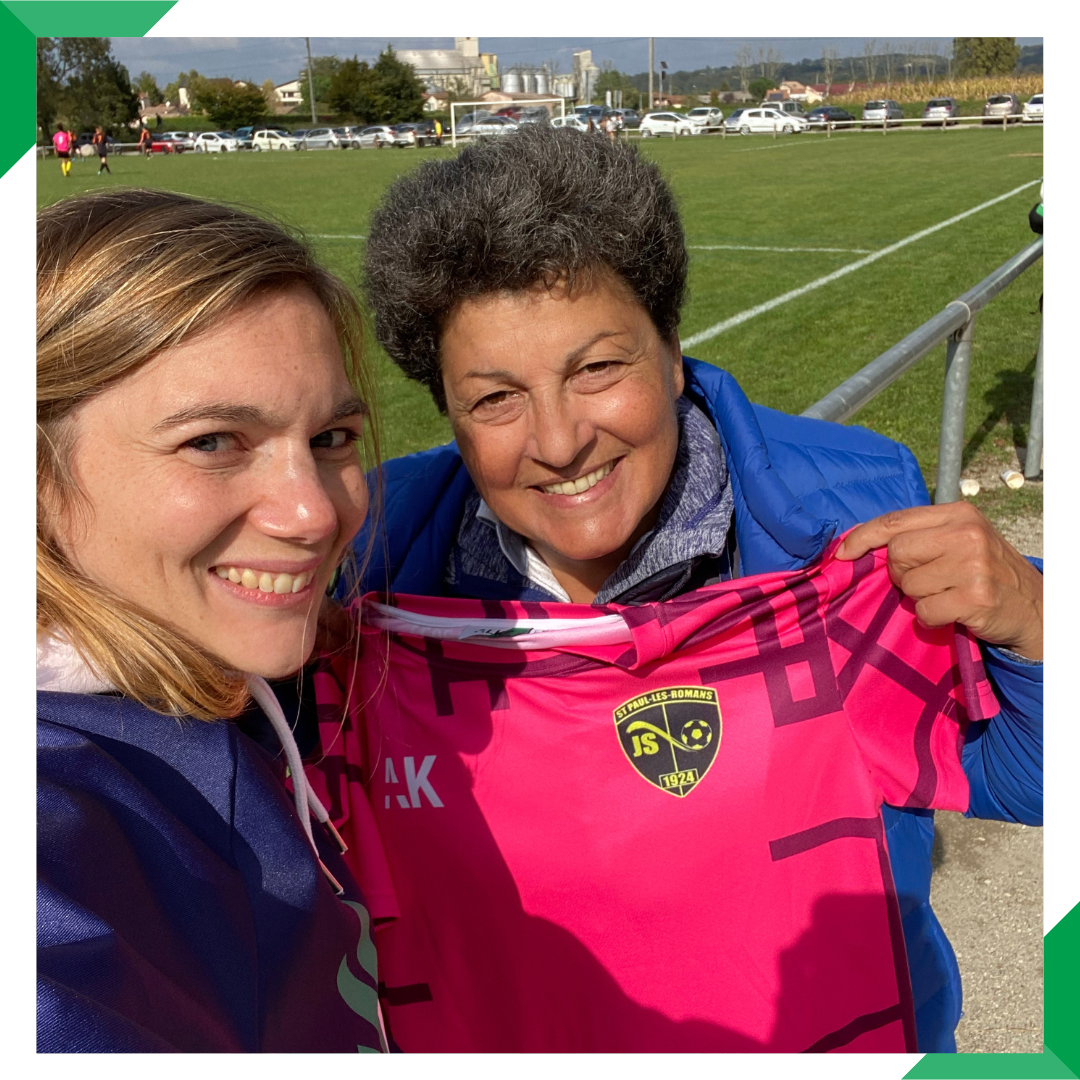 Nicole Abar is a football player, 8 times champion of France, top scorer in the championship in 1983, and 10 years selected for the French team.
She holds the Football Coach Diploma, in the promotion of Didier Deschamps, and was a senior executive in the public service. She created 2 women's football clubs, and also created the association Liberté Aux Joueuses (LAJ), an association for the defense of women's rights in sport in 1996. She finally co-created the collective Egal Sport in 2017 (
http: / /www.egalsport.com/
)
Nicole is now a self-entrepreneur, speaker on gender equality in all places, companies, communities, international bodies, associations ... and contributes to the development of the women's club here and elsewhere (
https://femmesicietailleurs.com/
)
When did you start playing soccer?
At the age of 10, thanks to a move from downtown Toulouse to a neighborhood on the outskirts where there was a football field.
.
What club do you play in ?
Have you played In the neighborhood club with the boys, AS La Faourette (31), then my first women's club at US Colomiers (31), the only women's club in the entire Midi-Pyrénées region at the time, at the Reims stadium ( 51), in Paris at the VGA Saint-Maur (94), at FC Lyon (69), then at the end of the course at ASPTT Paris (75), a club that I had created in the 80s, at the Football Club du Plessis-Robinson (92) and finally in Bagneux, a club that I created in 1998.
.
Your best memory of a match? or competition?
Individually, I have scored a lot of goals in my career but there is one that means a lot to me. It was on the pitch of the professional club of Verona in Italy, which happens to be my mother's home region and I scored an exceptional goal, technically magnificent and a huge revenge to silence my coach who had me said before the match "you Nicole doesn't ask for the ball, you don't know how to use it" while at that time of the season I was leading the scorers in the French championship.
Collectively, the victories in the final of the French championship, a magnificent moment of sharing, of joy, which comes to reward all the difficult moments throughout the season, a cloud, a levitation, wonderful.
.
And your best memory off the field?
The smile, the joy, the happiness of all the little girls for whom I have helped introduce football...
.
How did you evolve after your football career?
Since there was no professionalism, I always worked full time. At the end of my career, I decided to make room for an ambition in my professional career by becoming an executive, then a senior executive.
.
What changes have you seen in women's football since you started playing football ?
They no longer have to become masculine in order to express themselves in this universe. There is no more contempt, the scales are tilted more towards the recognition of the right to play and to be watched.
In the game, the training conditions for the best have improved considerably and the players are therefore better prepared, physically, technically, tactically. For the youngest, there is a path leading to high level with a France pole and hopeful poles and like the seniors they can harden up in all international competitions. Women's football is now visible thanks to the media exposure and this allows progress to also financial recognition in practice with salaries for the best and an after career facilitated thanks to their notoriety. This visibility makes it possible to highlight model roles that will serve the development of the masses, a prerequisite for any development strategy.
Girls and women now have outfits that are adapted to their morphology, they no longer have to order from the mayor of a brand size 38 for a pair of crampons because it was not sold in stores in proximity to my time…
.
In 1997, you founded the association Liberté Aux Joueuses - L.A.J. Can you tell us more about the missions and actions of the association?
The association aims to sensitize adults and children to the transmission of gender stereotypes and the consequences in terms of disability that this produces for both girls and boys. It carries out field projects directly with a focus on motor skills and space, and it contributes to this awareness in multiple events or as part of the implementation of action in favor of women's equality. men in business.
.
After working in close collaboration with institutions, you are now an entrepreneur. What message would you like to send to women who have a project but don't dare to get started ?
If I hadn't accepted out of politeness to come out onto the pitch as a football player, when I had never touched a ball, I would never have known I was good and that was a complete life-change. To dare to go where we do not think we are legitimate is to take the risk of not going to the end of the objective but this does not mean that it is a failure, but it is above all to take the risk of discover and surprise.
.
When you were offered to be the sponsor of Operation Pink October with ALKÉ, what were the elements that made you want to participate in this action ?
The fact that a brand is focused on creating athletic outfits for women that are fit for the practice, functional and aesthetic is all I didn't get when I was a player. So it was obvious to me to support and encourage this initiative.
There is also the "pink October" dimension, an operation to which I am very sensitive because breast cancer kills more than we think and I like that beautiful positive energies come to give hope in the course that we have to do individually and collectively to win this battle.
.
Finally, what is your dream ?
In terms of football, my dream would have been to participate in all international competitions with the France team, but at the time they did not exist. I would have loved to be the coach of a French or foreign national team, but at the time it was almost impossible. Finally, another dream that will always remain a dream: to be a football professional.
.
If there is anything else you would like to share with us, it's here :
Football has given me and given me so much that I will be indebted to it for the rest of my life. Playing football has been such a joy that I want to share it with as many people as possible and I hope that many little girls will enjoy it ...
.
As part of Pink October, find Nicole Abar during our digital conference on Wednesday October 20 at 6:30 p.m.
Register here : https://www.besport.com/event/7046228
.