PORTRAIT N°7 - CELINE VIONNET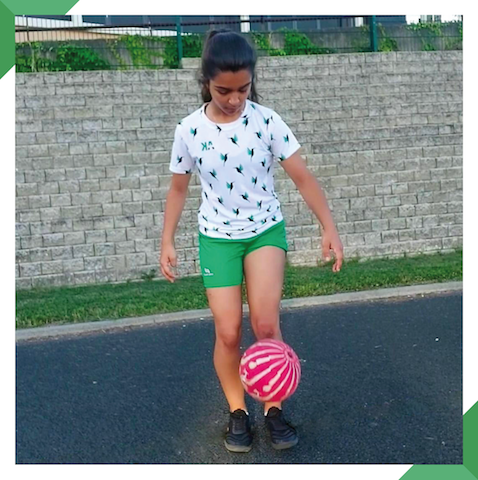 Portrait of Céline Vionnet, 18, from a small village near Lyon.
Freestyle football practitioner, she tells us about it:
When did you start playing soccer?
"After a catastrophic year of dancing, it was at the age of 5 that I fell into football, accompanying one of my brothers.
So I started with the boys in 2007 at the Beaujolais Foot club (formerly ALFVM, Amical Laïque Fleurie Villié-Morgan) and I must admit that it was quite complicated at the beginning. Women's football was not developed and the phrases like "go play with dolls" I heard them on repeat. But I never gave up despite my teammates and opponents being 1-2 heads taller than me. "
What club do you play / have you played in?
"At the age of around 11, I started a season with my first women's team, ASM Montmerle sur Saone, which accompanied me for 5 years, then I played for 1 season with the EOCSL (Entente Odenas Charentay St Lager) then this last season with the ESVS TSDI (ESVS Thoissey, St Didier, Illiat) "
Your best memory of a match? or competition?
"My best memories were when in tournaments and matches I often heard 'look at the girl, she's too strong' or finally we understood that a girl was also capable of playing.
My detections at OL also marked me, an extraordinary experience. "
Do you have a player you like the most?
"As weird as it sounds, I don't like watching football on TV, but the player (s) that inspire me the most are Alex Morgan and Amel Majri."
What music do you listen to to motivate you (if so)?
"Then for the pre-game, it will depend on my state of mind but I like listening to the motivation videos to gain self-confidence."
The woman who inspires you the most?
"It will seem a little basic but the woman who inspires me the most is and will always remain my mother, it is thanks to her that I am here today, it is she who has me the most supported in football, which accompanied me to every match, every training. "
What is your dream ?
"And my biggest dream would be to have lots of little girls to train to pass on to them what I have been able to learn for 12 years now and to support them in their learning."
Anything else you would like to share with us?
Football is now over for me, but freestyle football is just entering my life.
Céline shares her freestyle on her instagram account! @ celine.vnt