PORTRAIT N°18 - ANAIS LE BELLE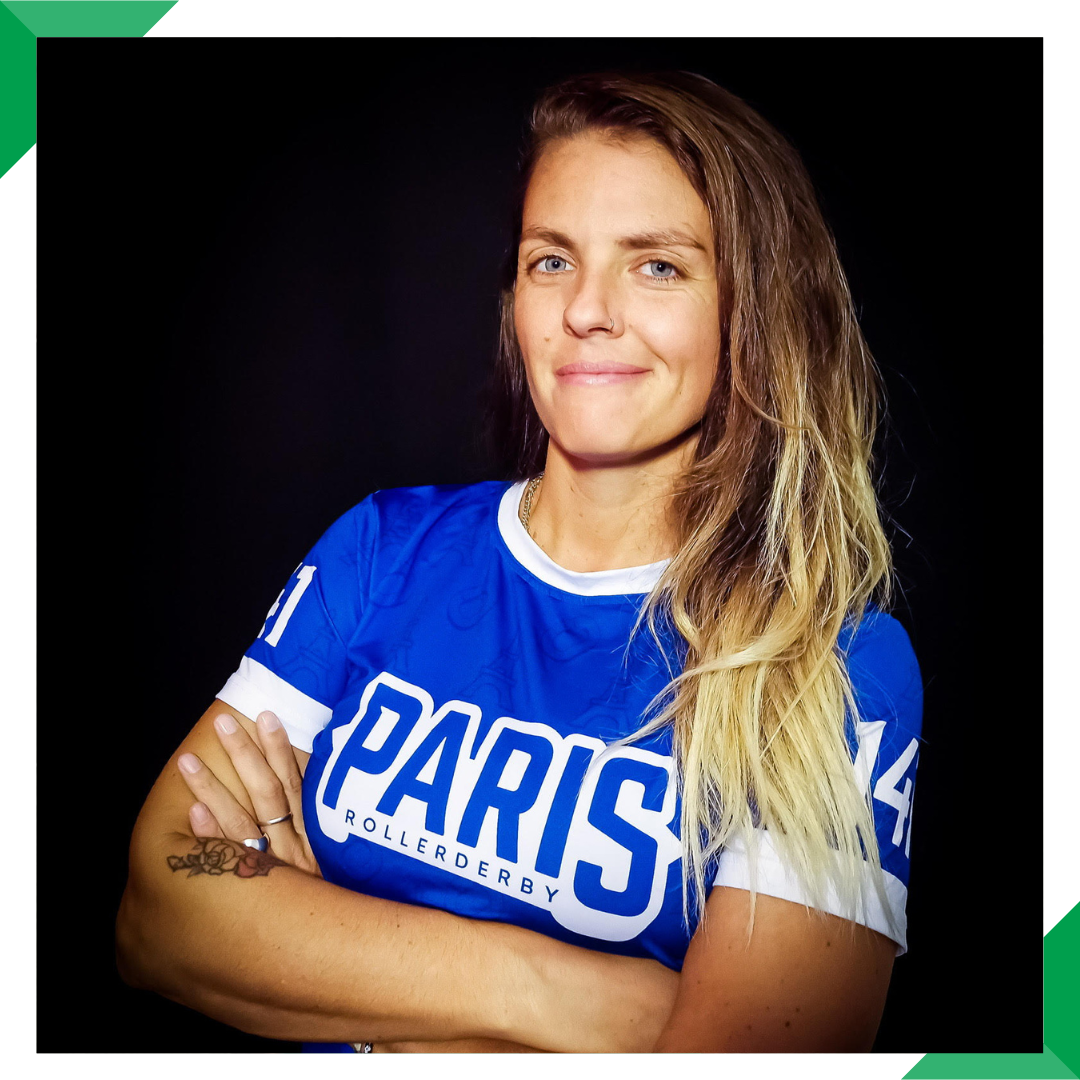 Mathilde
Ressaire
 Anais Le Belle aka Bonnie Tagueule or Bobo is a Roller Derby player at Paris Roller Derby.
Can you introduce yourself in a few words?
My name is Anais, my derby name is Bonnie Tagueule, and usually I'm called Bobo. I am a blocker/pivot in the Paris Roller Derby All Stars team.
.
When did you start playing roller-derby? Was it your first sport? What brought you to the practice?
I started roller derby in September 2013, I will soon be able to celebrate my 10 years of derby! Since childhood I have always loved and practiced co-sports. Before derby I played basketball and handball. It was a friend who suggested I come and see a derby training session in Caen, I even thought it was not a sport for me at all, it took me a year before I took the plunge!
.

Can you quickly explain the discipline for people who don't know this sport yet?
Roller derby is a team sport, in quad (roller skates) and contact. The principle: Two teams (consisting of a maximum of 15 skaters) compete on a track (flat oval track). In the game, on the track, there is one attacker for each team (jammer) and four defenders for each team as well (blocker) SPOILER ALERT: there is no ball. To score points, the jammer must pass the hips of each blocker and one point is earned per blocker passed. A match is 2x30 minutes of play with a 15 minute break and is broken down into periods of 2 minutes maximum called "jams". And if there are fouls whistled, it's a 30 second penalty in Penalty Box. The team that wins is the one that scores the most points!
In which teams did you play?
I started rollerblading in Caen in September 2013 with the Leopard Avengers for 6 years, before transferring to Paris Roller Derby where I currently play.
You were recently selected to be part of the European team, for a tournament in Portland gathering the best teams in the world? Can you tell us more about this gathering and this European team?
In November, Rose City organised a tournament and asked for a European team to participate, so there was a climbing team, composed of a small group of 15 skaters from the biggest European teams. It was the first time we played together! We are really happy to have been able to participate in this event which gathered very big teams like Montreal, Denver or Rose City (first world team). We won 2 games out of 3, so we can say that Europe was well represented during this tournament!

What do you feel when you play?
It's a feeling between stress and excitement. I'm always very eager to play. Always the desire to progress and the desire to build something beautiful individually and collectively.
What is your best memory of a match or competition?
One of my fondest memories of a match was in Winston-Salem, with PRD, we went to the playoffs. It was a first for me! And for our first game, we were playing Santa Cruz, according to the statistics we had a 3% chance to win against this team. And we won, by 3 points! It was amazing. We broke the bracket!
Your best memory off the pitch?
I have a lot of great memories off the pitch, the team trips, the team buildings (whether it be with Caen or Paris), the afters. One of the memories that stands out for me is when I went to Manchester to see the roller derby world cup with a friend. It was an incredible weekend, an extraordinary atmosphere, teams with superb levels of play. It was a great time! Besides my role as a player, I am also a coach, I prepare bootcamps (intensive training days or weekends) for teams who wish to do so. And it's always a great pleasure to meet new people, new cities, to transmit and also to share great moments in France and abroad.
Which sportswoman do you like the most?
There are several sportswomen I admire, Gaby Williams & Marine Johannes for basketball, Alicia Putellas for football, and Loren Mutch in the derby who I find incredible.
What music do you listen to to motivate you (if any)?
I don't have a typical motivational music, but I love to practice visualization before each game.

What is your dream?
A dream related to derby would certainly be to participate in the next world cup, to meet teams like the USA or Australia. And outside of derby, I try to do as many things as possible to make myself (and those around me) happy, so I would say something like continuing to travel and discovering the world around us.

Anything else you would like to share with us?
For the people reading this interview, don't hesitate to go and see a derby match, it's an inclusive sport, with great values. Everyone is doing their bit to make this sport accessible and to make it known! Don't hesitate to give us strength! ♥️ THANK YOU ALKÉ!