PORTRAIT N°16 - AURELIE VILLON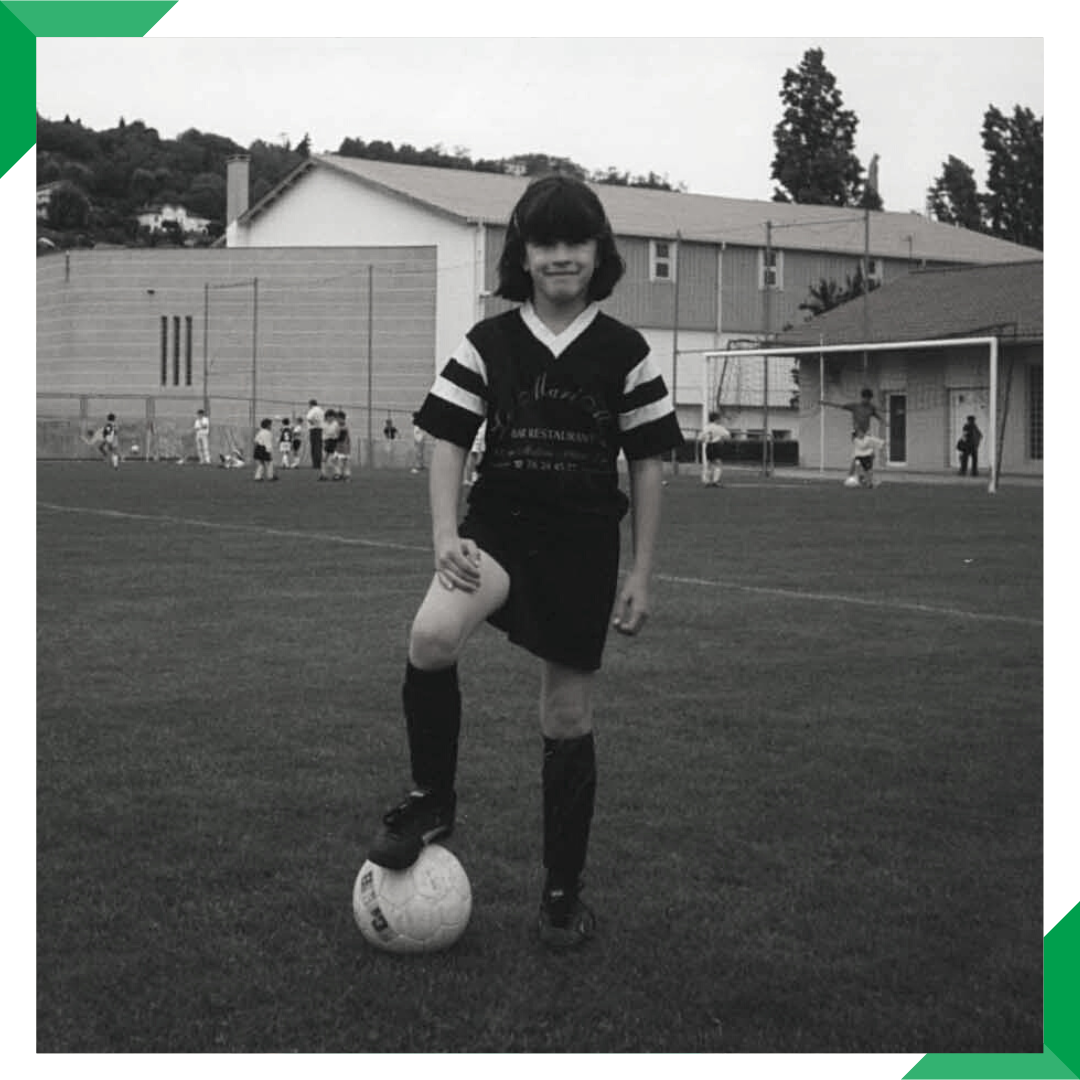 Aurélie comes from Lyon at 30, she co-created the Lyonnasses association. Today, she is 33 and is a graphic designer. She tells us that she could have done other jobs, as she is so passionate about so many areas. Following a collaboration, this football fan answers our questions.
Can you introduce yourself in a few words?

My name is Aurélie, I'm 33 years old. I am a graphic designer but I could have done other jobs as I am passionate about so many things. Nature, sports, music, the 7th art... 
When did you start playing?
I played in clubs from the age of 6 to 31. And from the age of 30 until now at the Lyonnasses. I've coached quite a bit too. Women's teams, U13F and U15F.
In which clubs do you play / did you play?
I started playing in Saint Cyr au Mont d'or, with the boys until I was 15. I then played for the girls in Caluire, for 8 years. Then 1 year in Domtac and finally 7 years in Chazay d'Azergues.
Can you tell us a little more about the collective Les Lyonnasses?
A collective that has grown enormously this year. A rather incredible craze! When we talk about it between us, the "founding members", we find it crazy how much it has grown in such a short time. I think people are just really happy to be on and off the field in a serene way. And on the other hand, we're really happy because we can see that everything we propose makes sense and that people are buying into it! It pushes us to always do more. It's a real pleasure to be part of this collective. 
What do you feel when you play?
I think it's a pretty indescribable feeling. It's my lifelong passion! When I play, nothing else matters. Time stops and I'm completely focused on what's happening on the field. My favourite thing is to make a pass that is out of the ordinary, the low pass that cuts through the lines or the dice pass in the striker's path; that's my great pleasure, that's the little extra emotion!
Your best memory of a match or competition?
What a difficult question ... I have so many, in almost 30 years! But if I had to choose three (yes, that's a lot), I would choose:- winning the Rhone Futsal Cup with my U15F team when I was coaching in Chazay. We beat the best team in the region in a final where I could hardly sit on the bench, I was like a battery of electricity, I wanted to get on the pitch and play with my players - the first game I played after my father died. It was in Chazay against Asse, my heart club and the one of the whole family. It was a really special moment, there was a tribute, my mum and grandparents were there, my darling too, I remember giving everything on the pitch and putting in a very good performance - The successive rises of our team at Chazay, we started from zero and we had reached a great team that rivalled the big names in the region.
Your best memory off the field?
I think it's all the years we spent in Caluire. We had a great coach and a great group! We had a lot of fun evenings.
Which player do you like the most?
I'm not going to lie to you, I have to admit that I watched a lot more men's football on TV than women's. It was my childhood passion. It was a big part of my childhood and adolescence. I'm a real fan, even now! My favourite players have always been players who were loyal to their clubs, real football players in the noble sense of the word, guys who represent for me the very essence of this sport: Giggs, Del Piero, Iniesta, Xavi and Messi to name but a few. I find it much more difficult to identify with actual players.
Who inspires you the most?
I follow a lot of adventurers of all kinds. They inspire me the most and make me dream.
What music do you listen to to motivate you (if any)?
Good old Iron Maiden always does the job.
What is your dream?
For the time being, it's not a football-related dream. But my biggest sporting dream is to be able to travel by bike for as long as my legs can carry me. Just like on a football pitch, you can't describe the feelings you get on a bike, you have to experience them! A freedom that I can't find anywhere else. Then to be able to reach my goals for the year already would not be bad: climbing the Mont Ventoux by bike, first triathlon, first gravel race...
Anything else you'd like to share with us?
Thanks to you and to you Claire for this great collab. See you soon on the field or elsewhere.