PORTRAIT N°6 - MARIE FRANCE GOSSELET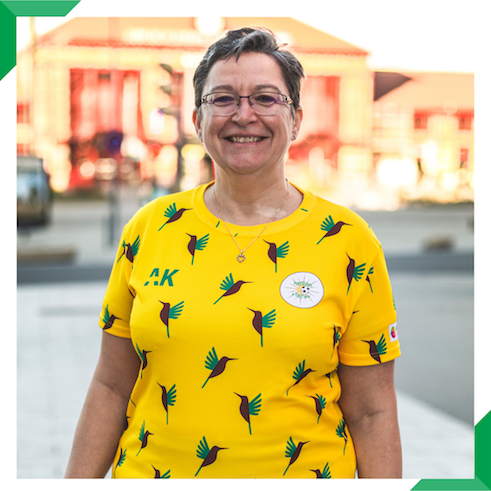 Mini-portrait of Marie-France Gosselet, 57 years old, alias Mimy Foot, founder of the Association "Footeuses à Tout Age" and member of Mamies Foot, who shows us that there is no age to play football
When did you start playing soccer?
In April 2019, for the Mamies Foot adventure.
How did the Mamies Foot adventure come about?
In 2018, the Oldyssey association discovered the South African Grannies Soccer during its tour of the old world. These grandmothers who have been playing football for ten years hoped to come to France to see their national women's team play at the Football World Cup. But their dearest wish was to make a match against French Grannies.
The CEO of Senioriales has agreed to make their wishes come true and has started recruiting in the residences of his group. There were 12 of us to take up the challenge, having never kicked a ball ...
How do you feel when you play?
Well-being and happiness.
Your best memory of a match? or competition?
The meeting of soccer grannies / Grannies Foot in Saint Etienne
Your best memory off the pitch?
The smile that can be read on the faces when we talk about the Grannies Foot and the initiative of Footeuses at any age
Do you have a player you like the most?
Eugenie Le Sommer
The woman who inspires you the most?
Hors Foot..Simone Veil
What is your dream ?
The success of the Footeuses association at any age.
----
The association Footeuses à tous ages https://www.footeuses-a-tout-age.fr/'s mission is to promote the practice of football for all, men and women, at all ages, and to facilitate the '' access to the practice of recreational football for women over 50 in local clubs.
ALKÉ x Footeuses fan jerseys for all ages are available for sale from the association to support their project.