PORTRAIT N°3 - CHLOE WARY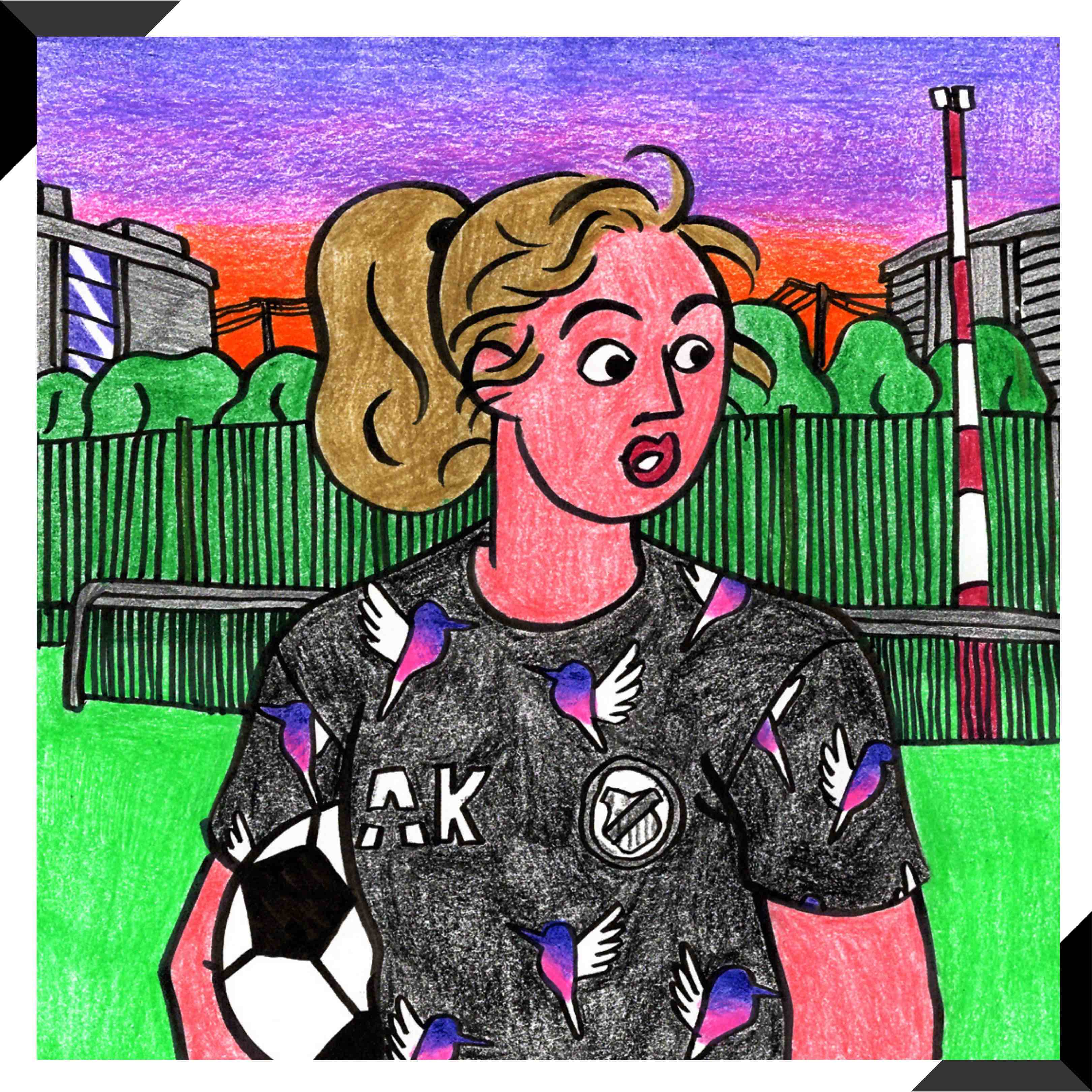 Portrait number 3 with Chloe Wary, football player at FC WISSOUS  and author of the comic strip: The Season of the Roses. A comic about female emancipation in the centre of a suburban football field, don't hesitate to take a look.
How do you feel when you play?
It goes fast, it burns,it's exhilarating. I want to score, to run, the field is big, to make passes, to play well, to apply myself, not to panic, to control the ball. My body has always been cluttered, it's too big , I bump quite often , so when I manage to make beautiful gestures and my control my movements , I feel like I understand something, I'm good in my cleats. 
Do you have a player you love the most ? What for ? 
All the football players impress me, from amateur to the pro. 
I really admire the experienced players at my club, who have been playing since they were little. It's inspiring to watch them play. In general, footballers who know how to touch, the beautiful game what, it's downright mesmerizing  … 
Your best match memory ?  
My first goal obviously, even I did not believe it, in addition I play behind, I do not often have the opportunity. The ball hit the nets, I turned my hands on my face, the chick came grab me, but I was so shocked that I didn't even celebrate I went straight back! 
Your best memory off the field? 
This summer, I was so excited about the Women World Cup. In addition, my comics "Season of the roses" which also talk about women's football, had just come out and almost every game of Bleues was preceded by a signing session.  I remember those super exhilarating match nights,  meetings with great players and supporters, so much sorority and so much joy in every game, it was crazy to live all this together ! 
The woman who inspire you the most ? 
It changes quite regularly. Lately it's the author of comics Catherine Ocelot. His latest book, "The Life of an Artist" touched me with his humility and his accuracy of writing. Inside,  she indulges her readers, submits to their judgments with transparent honesty. It takes a lot of courage to write what she wrote. Besides, she's too nice.
What do you listen to as music to motivate you ? 
So I'm pretty much the opposite, that is to say that when I go to training in the evening, I still have head full of my day. I'm tired, I need calm. On my way out, on the other hand, I have twice as much energy. It is for the return that the sound is essential in the car. 22h past, there's never anyone on the road, I bomb on the last album of Nekfeu still lopping, especially the title "under the clouds" it hits as it should. 
What's your dream ? 
To receive a retirement worthy of a comic book director. (We have the right to dream)
Anything else you had like to share with us? 
The footballers who reads comics are really understand the real life …