PORTRAIT N°1 - CANDICE PREVOST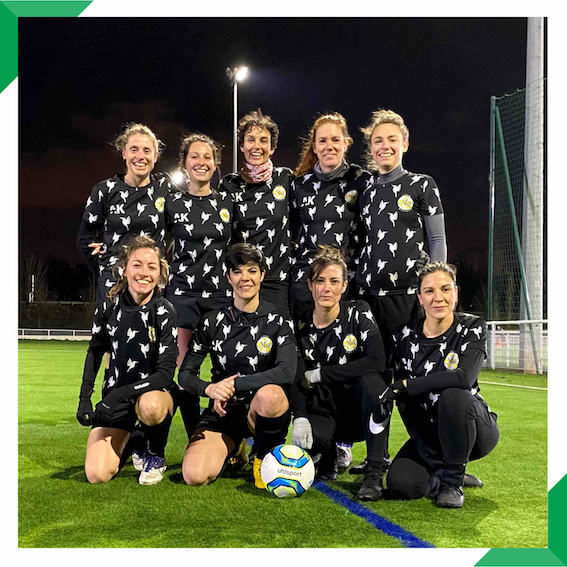 Interview of Candice Prévost, former PSG player and of the French women's football team (with 4 caps) and now Co - founder of the association Little Miss Soccer with Mélina Boetti. 
When did you start playing football?
I started football in 1998 in a club. I was 16. I used to play with my brother, my friends, my neighbors, and classmates on the street, the parking lot behind my house, or the playground. It was street football.
Which club do you play in?
I played with the EAC football (Evreux), a multisport club. I was playing tennis before at the same club. It was my best friends who offered to start with her. Her father Norbert, was the president of the Club. They were the ones who gave me my first pair of football shoes. After that I continued with PSG. I wanted to play in D1 and the French team and follow a player I admired and who was a driving force me. Ingrid Boyeldieu. I played 4 caps in EDF and played the university world championship.
How do you feel when you play?
Freedom. In fact, at my first club training in the end we did a 7 man football opposition. I felt so good in this group, in the sports that I had to use all the space on the field. It was anything, a bit rough but I didn't have the tactical codes yet. I didn't care. I felt like I belonged. Why sticking to lines, schemes?
Your best memory? Or competition?
The victory in the final of the French Cup against Montpellier. We win 5/0 in Boudoufle. There were Ultras making noise, my family. It was nice and warm. I remember that game very well.
Your best memory off the field? 
The presence of my parents and my brother at my games. My mother whistled at me in the warm-up to announce her arrival. It reassured me and made me laugh, too. Evenings and other friendly moments with the group, the girls.
Do you have a player you love the most ?
Ingrid Boyeldieu and Marinette Pichon. I remember watching her play at the time. She was different. I also enjoyed playing with Elise Bussaglia, no fuss, when she was huge in PSG. Nowadays the one that I really like is Majri. She's got it all.
The music you are listening to motivate you (if it is the case)?
The gluteens /shake milk
Maysha music (she is the daughter of the first captain of the psg besides. She is my darling)
Jain / Makeba (I walk confidently bounding down the street listening to her)
Keny Arkana, air girl, wild nature.
I forgot so much...
I also like Volver... Spain :)
The woman who inspires you the most?
It's hard to say just one name. Adèle Haenel, Céline Sciamma, Mona Chollet, Megan Rapinoe, Noémie De Lattre, Christiane Taubira, Virginie Des slopes, Blanche Gardin, Mélina Boetti, the Little Miss Soccer we met during the world tour.All women who seek their place, who do not resign themselves, and who trace their own path with the burning desire for freedom. the collective of displays around feminicides. Nous toutes. I like the idea of a collective more than a person.
What is your dream ?
To sing with Celine Dion, to break the kidneys of Menes and Riolo, to make a Hug to Megan Rapinoe, to see a woman at the head of the FFF, that we arrive at a True Equality M/W. Linving in a progressive society and drawing a line under patriarchy.
Anything else you'd like to share with us?
Who wants to play against me at Padel?
Join Little Miss Soccer https://littlemiss-soccer.com/  and follow them on Little Miss Soccer!