ALKÉ at the FFSE women's football challenge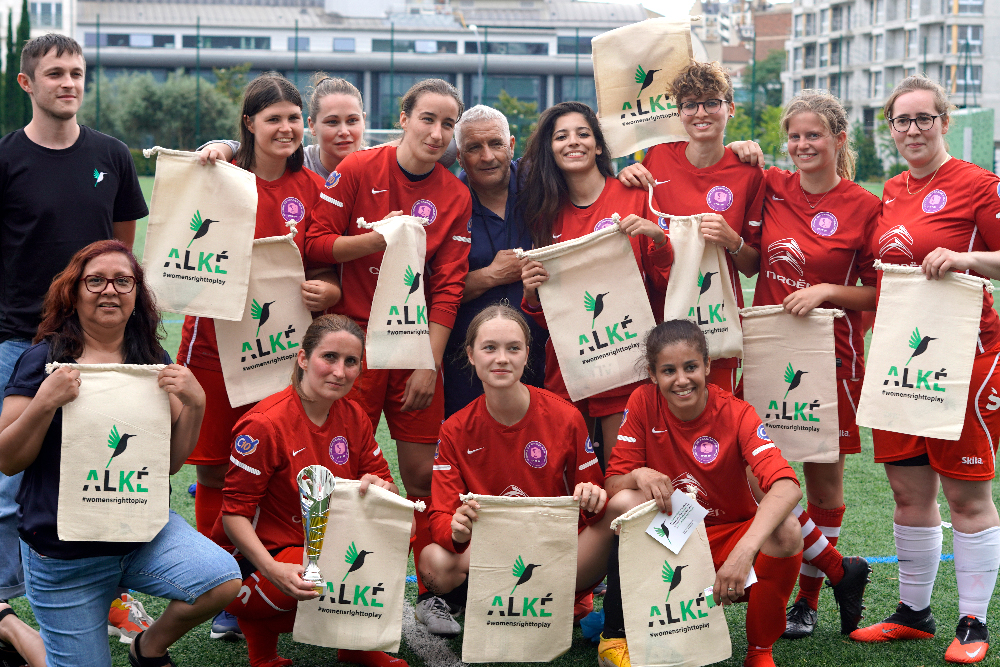 A few weeks ago the FFSE women's football challenge took place. ALKÉ, partner of the event, was present. Back on this day of competition.
5 teams met on July 3 at the Stade Gabriel Voisin in Issy-les-Moulineaux, as part of the women's football challenge: the Footeuses d'Ambiance, PSL, the Atomic Unicorns, GPSO 92 Issy and the FC Landy.
Two round-trip matches between each team were scheduled throughout the day. The first leg was held in the morning, while the second leg took place in the afternoon. At the end of these matches, a final pitted the first team against the second in the general classification: the GPSO 92 Issy against FC Landy. After a stuck match, it was the players of 
GPSO 92 Issy
who imposed themselves on their field, and who therefore won the challenge. Congratulations !
ALKÉ was present throughout the day, and was able to give awards to all the players. The winning team won a set of
12 100% personalized jerseys
. This day was the opportunity to introduce the partnership between the FFSE and ALKÉ, which will be effective throughout the season.
Once again, a big thank you to all the participants for their presence and their good humor! See you soon on the FFSE grounds 🔥
The FFSE, what is it ?
The Federation Française du Sport d'Entreprise (FFSE) is a multisport federation providing access to more than 30 different sports. It is affiliated to the CNOSF and approved by the Ministry in charge of Sports.
Created in 1952 under the name of the National Union of Corporate Clubs (UNCC) then the Federal Union of Company Sport (UFSE) in 1996, in 2003 it became the FFSE.
Its objective is to develop the practices of adapted physical or sporting activities, within and around the company, for the benefit of the health, well-being and integration of all employees, as well as service of the efficiency and collective performance of companies.
Since 2012, the FFSE has been organizing the women's football criterium. Taking place between October and June, this inter-company 7-a-side football tournament during its 8-team season. At the dawn of its 10th season, it now has more than 20 teams.
Organized in collaboration with the GPSO Issy 92, it is Christine Aubère, the president of the club, and former player of the PSG who is at the initiative of these meetings.
All information and registration procedures HERE
Contact : footballfeminin@ffse.fr / 01.56.64.02.10